Forrest Theatre Tickets
Forrest Theatre (Philadelphia, Pennsylvania):
Front Row King is your site for premium Forrest Theatre tickets online! Browse affordable and premium concert and live event tickets for Forrest Theatre. Lots of great performances are going to Forrest Theatre in Philadelphia, Pennsylvania. Below you will find a schedule of events. Hot performances will happen at Forrest Theatre in Pennsylvania, Dont miss it! Forrest Theatre is a venue located in Philadelphia, PA. Choose your own seats at Front Row King for Forrest Theatre events and some tickets may be available to pick up at the box office or Forrest Theatre will call office. Events at Forrest Theatre are never sold out at Front Row King. Philadelphia concerts and events are often at Forrest Theatre, a great venue in PA.
Forrest Theatre 2013 - 2014 Event Schedule
All through 2013 and 2014, you can catch events at Forrest Theatre in Philadelphia, Pennsylvania. Once events are announced at Forrest Theatre you can see the events and tickets for sale here. Below is a schedule to view event tickets for Forrest Theatre.
Forrest Theatre Theater Shows
12-11-2013
Wednesday at 7:30 pm
Forrest Theatre
-
Philadelphia

,

PA
12-12-2013
Thursday at 2:00 pm
Forrest Theatre
-
Philadelphia

,

PA
12-12-2013
Thursday at 7:30 pm
Forrest Theatre
-
Philadelphia

,

PA
12-13-2013
Friday at 8:00 pm
Forrest Theatre
-
Philadelphia

,

PA
12-14-2013
Saturday at 2:00 pm
Forrest Theatre
-
Philadelphia

,

PA
12-14-2013
Saturday at 8:00 pm
Forrest Theatre
-
Philadelphia

,

PA
More Forrest Theatre Theater Events
Forrest Theatre Seating Chart:
Browse the Forrest Theatre seating chart and view the venue map for Forrest Theatre events below. The Forrest Theatre seating chart is available as a guide to locate seats, rows and sections. Some events may have different layouts for the venue. For a more accurate Forrest Theatre seating chart, please find your event and an interactive seating chart for Forrest Theatre may be available to help you find seats.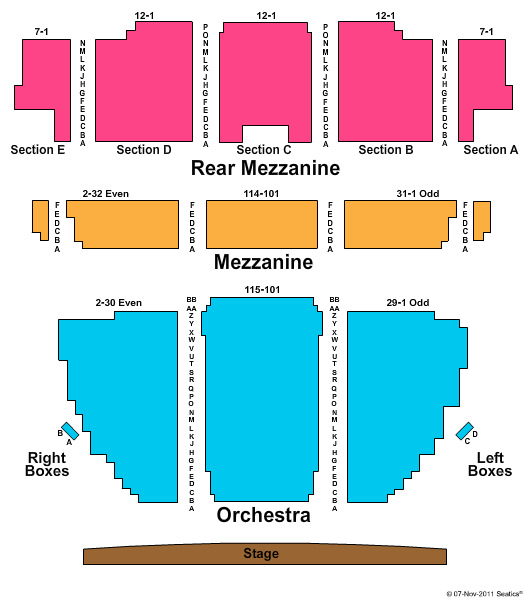 Forrest Theatre Ticket Information
Forrest Theatre Ticket Shipping:
When you find Forrest Theatre Tickets that you would like to purchase for Forrest Theatre event, they can be purchased online via our encrypted safe and secure server. Or if you prefer, you may order by phone. For faster service, please order online.
Forrest Theatre Event Tickets:
Front Row King is a licensed ticket broker which supplies the highest-quality event tickets, including Forrest Theatre tickets! Don't give up if the tickets we've listed are out of your price range. The prices of these tickets can go down, as determined by demand. Front Row King strives to sell the best tickets. We only provide authentic, quality tickets. If the event is canceled, you are eligible for a full refund. We understand the importance of getting the best tickets on the internet. We often have luxury suites available, as well as front row seats, discount tickets, and tickets for sold-out concerts! Browse our inventory often and you may find some backstage passes on sale. Front Row King always ships using FedEx! Your information will be kept safe and confidential when you order tickets from us!
1114 Walnut Street

Philadelphia, Pennsylvania
19107
1,800
'Jersey Boys' comes to Forrest Theatre
"Grow­ing up in Lang­horne, I wanted to be many things, from a pi­lot to an as­tro­naut to a base­ball play­er and everything in between. And that's the nice thing about grow­ing up to be an act­or. So far, I've played a knight, a ...
JERSEY BOYS Opens at
Forrest Theatre Tickets
, 9/30
The City of Philadelphia along with legendary local radio personality Jerry Blavat will welcome the Tony, Grammy and Olivier Award Winning Best Musical, JERSEY BOYS, to Philadelphia for an 11-week engagement at the Forrest Theatre beginning Sept.
Theater preview: Sally Ashton Forrest takes center stage
Forrest Theatre Tickets
In the beginning, well about 30 years ago, Sally Ashton Forrest was going to be an actress in the musical theater. But, soon choreography became the thing she was best at, loved the most and was repeatedly hired to do. Now, more than 20 years since her ...