CFE Arena Tickets
CFE Arena (Orlando, Florida):
Make Front Row King your only site for UCF Arena Orlando concert tickets and more! Check out all the events at UCF Arena this year. If the UCF Arena box office is out of tickets, you can purchase UCF Arena tickets here at FrontRowKing.com! If the UCF Arena box office is sold out, you can order UCF Arena tickets here. one of the best venues in Florida to see a live event is UCF Arena tickets. Tickets for UCF Arena are usually shipped with FedEx, but some UCF Arena tickets are available for pick up at the UCF Arena will call office or UCF Arena box office! Many fans go to events at UCF Arena. Orlando concerts and events are often played at UCF Arena, one of Florida's top venues! To purchase tickets for UCF Arena Orlando at cheap prices, review the UCF Arena event schedule! Find cheap UCF Arena tickets for events in Orlando!
UCF Arena 2013 - 2014 Event Schedule
All through 2013 and 2014, you can catch events at UCF Arena in Orlando, Florida. Once events are announced at UCF Arena you can see the events and tickets for sale here. Below is a schedule to view event tickets for UCF Arena.
UCF Arena Sports Events
12-11-2013
Wednesday at 7:00 pm
UCF Knights vs. Howard Bison
12-17-2013
Tuesday at 7:00 pm
UCF Knights vs. Jacksonville Dolphins
12-21-2013
Saturday at 4:00 pm
UCF Knights vs. University of Rio Grande
12-22-2013
Sunday at 2:30 pm
UCF Knights vs. Valparaiso Crusaders
12-31-2013
Tuesday at 5:00 pm
UCF Knights vs. Louisville Cardinals
1-4-2014
Saturday at 4:00 pm
UCF Knights vs. Temple Owls
More CFE Arena Sports
UCF Arena Theater Shows
3-9-2014
Sunday at 1:00 pm
Disney Junior Live: Pirate & Princess Adventure
3-9-2014
Sunday at 4:00 pm
Disney Junior Live: Pirate & Princess Adventure
3-9-2014
Sunday at 7:00 pm
Disney Junior Live: Pirate & Princess Adventure
More CFE Arena Theater Events
UCF Arena Special Events
2-8-2014
Saturday at 2:00 pm
2-8-2014
Saturday at 7:00 pm
More CFE Arena Events
CFE Arena Seating Chart:
Browse the CFE Arena seating chart and view the venue map for CFE Arena events below. The CFE Arena seating chart is available as a guide to locate seats, rows and sections. Some events may have different layouts for the venue. For a more accurate CFE Arena seating chart, please find your event and an interactive seating chart for CFE Arena may be available to help you find seats.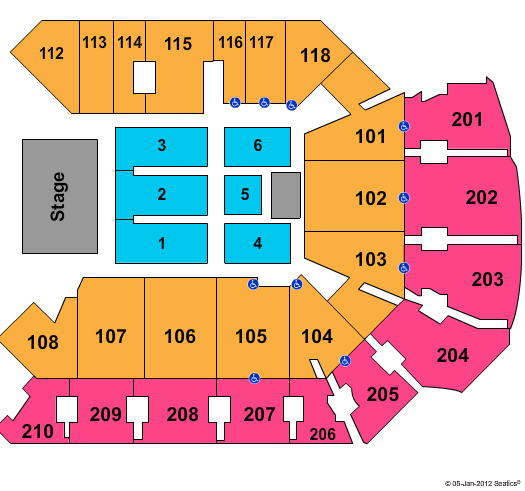 CFE Arena Ticket Information
CFE Arena Ticket Shipping:
When you find CFE Arena Tickets that you would like to purchase for CFE Arena event, they can be purchased online via our encrypted safe and secure server. Or if you prefer, you may order by phone. For faster service, please order online.
CFE Arena Event Tickets:
Your UCF Arena tickets are authentic and 100% guaranteed. Front Row King is a licensed ticket broker which supplies the highest-quality event tickets, including UCF Arena tickets. We work hard at getting the best tickets possible. Front Row King strives to supply you with the highest quality seats. Front Row King always sends tickets using FedEx! Here at FrontRowKing.com, your business is important to us so please let us know how we can serve you better. Your information will be kept safe and confidential when you place a ticket order with us. If you require assistance you can always call us at 1-866-226-6811 and be sure to say your call is about FrontRowKing.com. Don't give up if the tickets we've listed are too expensive. Most event ticket prices fluctuate often, sometimes even by the minute!
4000 Central Florida Boulevard
Orlando, Florida
32816
5,300
Predators to play at UCF's CFE Arena in 2014
The Orlando Predators - which lost the ability to play in the Amway Center after defaulting on the lease in September - have inked a deal to play at the University of Central Florida's CFE Arena in Orlando next year. The 10,000-seat CFE ...
Orlando Predators to play at
CFE Arena Tickets
on UCF campus
The Orlando Predators announced they will play their 2014 season at the CFE Arena on the campus of University of Central Florida. Predators' owner David Pearsall confirmed Wednesday night that the team has moved away from the Amway Center and ...
Orlando Predators arena football moves to CFE Arena
CFE Arena Tickets
Orlando Predators Arena Football League team has found a new home on the UCF campus. The AFL team announced Wednesday that it will play the 2014 season in the CFE Arena. The decision is a result of attendance count disagreements between the team ...